Performance Management
3 Simple Ways Businesses Can Make Feedback a Two-Way Street
ote: This post is a sampling of what the author will be sharing in his talk on "Relationships for Leadership Success and High-Performance Teams" at TriNet Inspire in Los Angeles on May 17.
Although we can all recognize the importance of giving feedback to our team, have you ever considered the importance of getting their feedback? It's valuable. It's important. It's how the organization stays current. So why don't you ask your team for feedback? Because it's hard, that's why.
Hearing criticism, no matter how valid, is difficult. Since so much of our self-perception is tied up in our careers, giving and receiving feedback doesn't just involve addressing performance – it can cut straight to the heart of who we are. Once someone reaches a certain level of expertise, it's easy to fall into the trap of feeling past the usefulness of feedback, having received so much of it already.
But for your organization to grow, it's just as important to receive it as it is to give it. At my company, Ferrazzi Greenlight, we have a few practices that take feedback from dreaded to welcomed.
1) Make feedback a continuous loop
For feedback to be effective, it needs to occur in real time. Annual reviews separate the feedback from the actions and can often be forgotten when they're not tethered to something tangible. For you and your team to get the most out of your feedback, you need to address things as they come up so the "cause and effect" can be discussed while it's still fresh in everyone's mind.
Plus, by creating a continuous loop where you talk about processes and practices, you remove the anxiety usually brought on by the annual review. As you and your team get accustomed to hearing feedback, you become more receptive to it.
*Check out the TriNet survey on annual reviews and why ongoing performance management conversations may be better for your business. *
2) Offer caring criticism
Feedback is only as effective as your ability to be candid and precise. Unfortunately, candor can be met with opposition if not offered thoughtfully. That's why I like to use what I call "caring criticism." To break through a colleague's natural resistance, you need to create an environment for transparency and safety so it's understood that feedback is a gift given to support each other in order to get better and meet goals.
As team leader, you have to offer difficult feedback in service of building greater outcomes for the individual and the team. Establish your loyalty to each member of the team and affirm that this candor helps the team succeed as a whole, with each person having a personal stake in that success. Teammates who feel supported will hear the advice as generous and will feel safe enough to offer advice in return – so long as you establish that you are willing to take it to heart.
Once everyone buys in, and feels safe and supported, your team will welcome both giving and receiving feedback.
3) Use Open 360
One of the caring-criticism practices we use at Ferrazzi Greenlight when we're addressing a team issue or having a collaborative session is called the "Open 360." This is a process where individuals on the team give and receive feedback, round-robin-style, in service of each other.
Open critiques can be daunting, so lead your team in giving and receiving critiques in a collaborative, caring atmosphere. Make sure to give positive feedback first by addressing the individual's strengths. Then, address a critique in the "because I care about your success, I might suggest …" format. Once team members see the feedback is being offered in a non-judgmental way, it becomes easier for them to accept and less likely that they will get defensive or resist it.
Getting feedback from your team may be hard but it leads to purposeful relationships, more candid discussions and improved team performance.
*If you'll be in the Los Angeles area on May 17, 2016 and want to hear more of Keith's expert thoughts on business relationships and leadership, register for TriNet Inspire, a FREE half-day event taking place May 17, 2016 in Marina del Rey, California.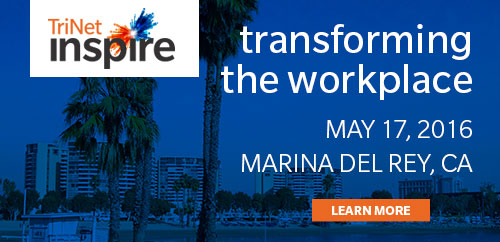 This communication is for informational purposes only; it is not legal, tax or accounting advice; and is not an offer to sell, buy or procure insurance.
This post may contain hyperlinks to websites operated by parties other than TriNet. Such hyperlinks are provided for reference only. TriNet does not control such web sites and is not responsible for their content. Inclusion of such hyperlinks on TriNet.com does not necessarily imply any endorsement of the material on such websites or association with their operators.
HR data can provide small and medium size business (SMB) owners and decision makers with information that can provide actionable insights and help make informed decisions.
As a business leader, you will eventually be faced with the unfortunate task of firing an employee. Here are some sanity-saving tips for approaching your employee with the news,...
Now that the glow of the new year is long gone, it is time to assess if your company's 2017 goals were feasible or if you were caught up in the promise of sweeping change that...