HR Essentials
4 Outdated and Time-Draining HR Tasks You Should Stop Doing Now
While HR can be a complicated task for any small business, companies in industries with flexible workforces—such as hospitality, retail, manufacturing and construction—are especially susceptible to the HR struggle that comes from the seemingly endless cycle of hiring and managing part-time, full-time, seasonal, salaried and non-salaried workers (and everything in between). Many of these business owners and managers spend an exorbitant amount of man hours on discretionary activities.
Now, what if I told you that you can stop wasting time on some of these burdensome HR tasks and, instead, focus that time and energy on creating a skilled workforce, increasing productivity and, ultimately, powering business success? Interested? Then read on for more information on what HR tasks you should stop doing now in order to reach your business goals.
1) Stop tracking work hours manually
In industries with constantly changing work shifts and high employee turnover, keeping track of your salaried, hourly and seasonal workers can seem like a full-time job of its own. Unfortunately, this issue is exacerbated when business owners are handling employee hours and payroll via spreadsheets, manually completed time cards and paper forms. If you are still pushing paper, the administrative burden of time-tracking can really impede your business success. Doing HR the old-fashioned way is not only a time-suck but it can affect your business's accuracy, resulting in costly mistakes.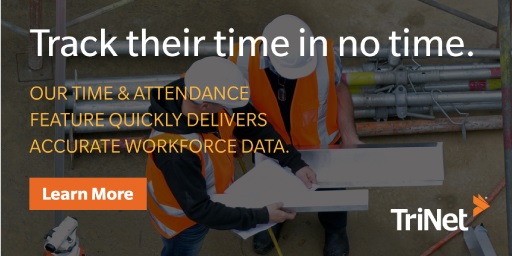 Solution: A time and attendance system that records time electronically each day makes keeping track of employee hours a simple, automated process. The ideal HR technology solution for industries with fluctuating workforces is one that effectively and seamlessly integrates time and attendance data into your payroll system. You'll want to make sure this product is user-friendly so that employees can navigate it on their own, allowing you to focus on other areas of running your business.
"Had I known about TriNet years ago, I would have saved myself a lot of money, a lot of time and a lot of headaches. I have a sense of ease when it comes to our payroll and our HR needs that I never had before."


2) Stop trying to do it alone
Most small business owners have their employees' best interests at heart but good intentions aren't always enough when it comes to compliance. Businesses that hire employees for service, labor and customer-facing jobs often find themselves struggling with labor laws, employment practices and other ever-changing laws, ordinances and regulations. Many of them come to TriNet with no written policies in place, a less-than-motivated workforce and little knowledge of the changing HR compliance landscape.
Companies that choose to navigate complex HR issues alone can quickly find themselves in hot water, putting their business at potential risk of non-compliance.
Solution: Focus on your core business and leave your HR to the pros. An HR team with knowledge and experience in your industry can help bridge the gap between your good intentions and the needs of your employees. Make sure your solution provides essential guidance on HR best practices with benchmark reports, employee handbooks and help tailoring your policies to meet legal and industry standards.
"As a small business owner trying to navigate HR on our own, we found ourselves facing the unfortunate consequence of non-compliance. With TriNet, however, we have been able to avoid making any additional costly HR mistakes."


3) Stop hiring multiple vendors to cover your HR needs
Sometimes, even when a business owner gets to the point they realize they need help managing their payroll, benefits and other HR concerns, they struggle to get the right kind of help in the right way.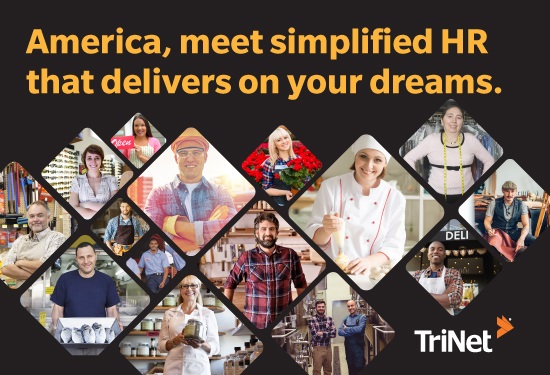 Consider the example of TriNet client HST Materials, Inc. Before finding TriNet, they had one vendor who ran their payroll, another who managed their 401(k) benefits, one for their cash balance plan and an HR attorney to help answer their employees' HR-related questions. According to HST's owner, Kathryn Miller, it would require a minimum of one full-time person to handle benefits, payroll, hiring, onboarding and answering questions for her staff of 30 full-time, part-time, temp and seasonal employees.
According to Kathy, "hiring one or two HR administrators full-time would mean fewer machine operators or other skilled employees on the floor—and less revenue coming in the door."
Solution: A professional employer organization (PEO) like TriNet can provide you with a one-stop solution for your primary HR concerns. Having a product tailored to your industry means that you don't need to waste time and resources with a one-size-fits all product aligning your time and attendance to your payroll or enrolling employees into different systems to manage each of your benefits. PEOs differ in their offerings, so make sure the PEO you hire can give you:
Industry-specific solutions that work for your business and your employee needs.
Robust time and attendance capabilities for scheduling and monitoring hours.
Agile payroll capabilities that can complement your org structure with synchronized time and attendance, tips processing and integrations with your point-of-sale systems.
An online self-service platform that is streamlined and secure, with convenient mobile access.
Expert compliance and risk mitigation support that helps protect your business with HR guidance, employment practices liability insurance (EPLI) coverage, claims management and online support.
A workers' compensation program that includes A+ rated carrier coverage, workplace safety training courses, hazard assessments and claims management to help protect you with fraud prevention and expedited resolutions.
Large-employer benefit plans and assistance complying with the Affordable Care Act.
"TriNet took a huge burden off me and my day-to-day work as a manager. Now when my employees come to me with questions, I can tell them to 'just call TriNet' and I know they'll find what they need. TriNet has taken that work off my plate and they do it in a way that makes my employees happy."


4) Stop doing your employees' job!
How many hours have you spent entering and maintaining your employee information this year? That time spent on HR is magnified if your company experiences seasonality in business. TriNet data shows that seasonal hiring doesn't always mean less work for business owners. In fact, according to TriNet data, managers of hospitality SMBs spent an average of anywhere from 18% to 41% extra time onboarding new employees in the 2017 high season, depending on their industry within hospitality.[1] And this doesn't even account for the time you spend maintaining your employees' information in all your systems, ensuring your database is up-to-date and answering standard employee queries on leave balance, insurance information and access to tax forms.
Solution: Full-service HR solutions like TriNet Main Street give you access to simple processes so you can administer hiring, onboarding, leave and terminations with minimal hassle. The unified technology platform applies information and updates across multiple features to minimize duplication and manual work while maximizing accuracy. A mobile app and flexible controls allow you to provide platform access to your employees, managers and administrators. This empowers employees to review and edit their information, and lets you focus on achieving your core business goals.
"One of the features that I love most at TriNet is how easy it is to enter payroll and add new employees. Working with TriNet is going to give me at least a couple hours every day that I didn't have before to focus on the needs of my business."


This communication is for informational purposes only; it is not legal, tax or accounting advice; and is not an offer to sell, buy or procure insurance.

This post may contain hyperlinks to websites operated by parties other than TriNet. Such hyperlinks are provided for reference only. TriNet does not control such websites and is not responsible for their content. Inclusion of such hyperlinks on TriNet.com does not necessarily imply any endorsement of the material on such websites or association with their operators.
Implemented correctly, people analytics can radically improve a company's bottom line.
Here are five effective ways employers can make sure they are creating a work environment where parents can thrive—in their jobs at home and in the office.
Long, inflexible hours are the norm. But in a tight job market, more companies are offering flexibility on the when and where of work.