HR Essentials
What is a PEO and How Can It Help My Business?
As today's business evolves, so does the role of the professional employer organization (PEO). Over the years, starting businesses partnered with PEOs to access HR outsourcing services, including payroll processing, benefit options, HR expertise and tax administration. Today, PEOs play a strategic role in growth for small and medium size businesses.
How can a PEO work for me?
PEOs operate under a co-employment model in which the PEO, as a co-employer, is the employer of record for tax purposes and is responsible for collecting and remitting payroll taxes for employees on its platform. The client maintains control over workforce decisions, like hiring, firing, compensation and culture.
PEOs bring several advantages including:
Time savings—Get relief from HR administrative tasks like managing payroll and benefits through technology and HR expertise.
Access to benefits—Offer your employees access to a wide variety of large group health benefits.
Attract and retain talent—Beyond access to benefits, HR technology and support can add convenience and a better employee experience. PEOs are also shown to create a more engaged workforce through better HR policies and hiring practices.
Monetary savings—PEOs can provide an array of services at a lower cost than their clients would pay for more basic HR services.
HR expertise—Full-service PEOs often have HR experts to provide guidance in areas like employee relations, benefits strategy and developing an employment handbook.
Risk mitigation—The PEO has a vested interest in the risk and responsibility associated with their services. Some PEOs provide guidance and resources to support compliance with employment rules and regulations, as well as employment practices liability insurance.
How to choose the right PEO
When considering a PEO, it's important to arm yourself with knowledge to select the right partner. Find an established PEO and check their client references. Resources you can use include Employer Services Assurance Corporation (ESAC), the IRS federal certification (CPEO) and the national trade association, NAPEO. You'll also want to look for quality benefit offerings and ensure relevant expertise. Be sure you know the charged rates and what's included, as well as how long the setup process will take. Your PEO should have a strong system in place to answer questions quickly and effectively, as well as expert resources to deliver strategic guidance.
Common misconceptions about PEOs
Be sure to look past the common misconceptions about PEOs. It's important to remember that, as the client and employer, you will not lose control over your employees—you run your day-to-day business, set performance goals and metrics. A PEO does not replace your HR manager. Instead, it helps to decrease the time your team spends on administrative tasks.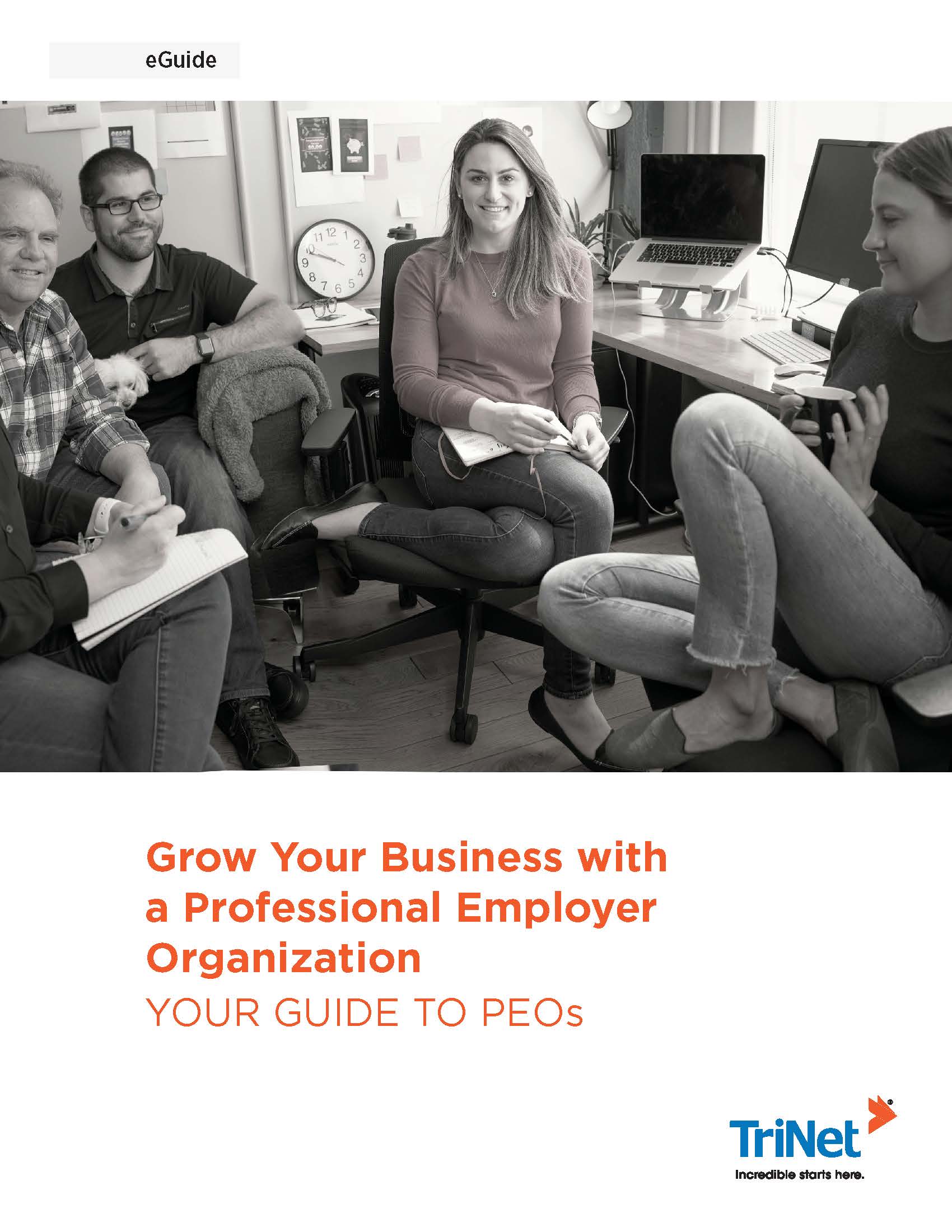 Download your eGuide below.
Get our eGuide with all the details you need to know about PEOs and whether it's a good fit for your company.
true { "first_name": "", "last_name": "", "company": "", "email": "", "phone": "", "industry": "" }